Dental implants are designed to provide a foundation for replacement teeth that look, feel and function like natural teeth. The person who has lost teeth regains the ability to eat virtually anything and can smile with confidence, knowing that teeth appear natural and that facial contours will be preserved. The implants themselves are tiny titanium posts that are placed into the jawbone where teeth are missing. The bone bonds with the titanium, creating a strong foundation for artificial teeth. In addition, implants can help preserve facial structure, preventing the bone deterioration that occurs when teeth are missing.
If, like many others, you feel implant dentistry is the choice for you, we ask that you undergo a dental/radiographic examination and health history. During your consultation visit, we will address your specific needs and considerations. Your questions and concerns are important to us and our team will work with you very closely to help make your procedure a success.
At the time of the extraction we prepare and augment the bone foe the placement of the implant, this allows for more rapid healing and preservation. Dr. Shaffren uses a multidiscipline approach, he works with an Oral Surgeon or Periodontist to ensure the best results.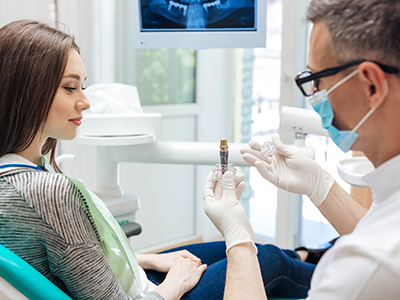 Follow Us