Dr. Shaffren is the brewmeister behind Stu's Brews. Ask him to tell you all about his latest batch while you are getting your smile upgraded. We'd love suggestions for names for any of our future brews!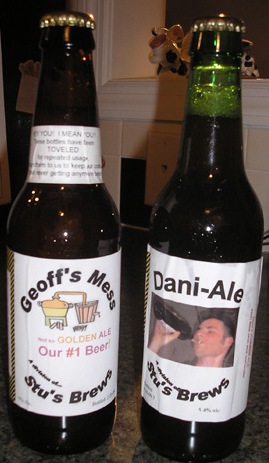 The Stew's Brews Crew:
Elie H. - Master Hops Selector
Dani S. - Mash Quality Expert
Dr. Geoff P. - Founding Partner (retired)
Miriam C. - Label Designer/Marketing Guru
So What's Your Excuse?
If you're a beer lover and you've got the blues
From second-rate Pilsners...then go try Stu's Brews!
It's strong and refreshing and tastes REALLY good
It's bottle fermented, like all fine beer should....
Our daily routine often tightens the screws
So don't carry on til you're blowing a fuse
Now what are you waiting for? Put on your shoes!
And go get a couple of pints. You can't lose.
Entirely organic - it's natural booze
And as for its kashrus, its fine for most Jews
Go pick up a 6-pack whenever you choose
Forget about Guinness. Drink only Stu's Brews.
Prose courtesy of Benjy Caplan
Dr. Shaffren's DISCLAIMER
If you drink any alcoholic beverage, drink VERY responsibly or don't drink at all!